Creating post templates in WordPress can be daunting if unfamiliar with web design. However, using various plugins and add-ons, you can create custom post templates that fit your needs. This article will show you how to use these tools to create post templates.
Using WordPress as a CMS, you know that creating professional post templates can be challenging. It is even worse when you know little about web design and how templates work. Thankfully there is a solution in the form of many different plugins and add-ons you can use with it. Below I will go over how to utilize these tools best to create your professional-looking post templates!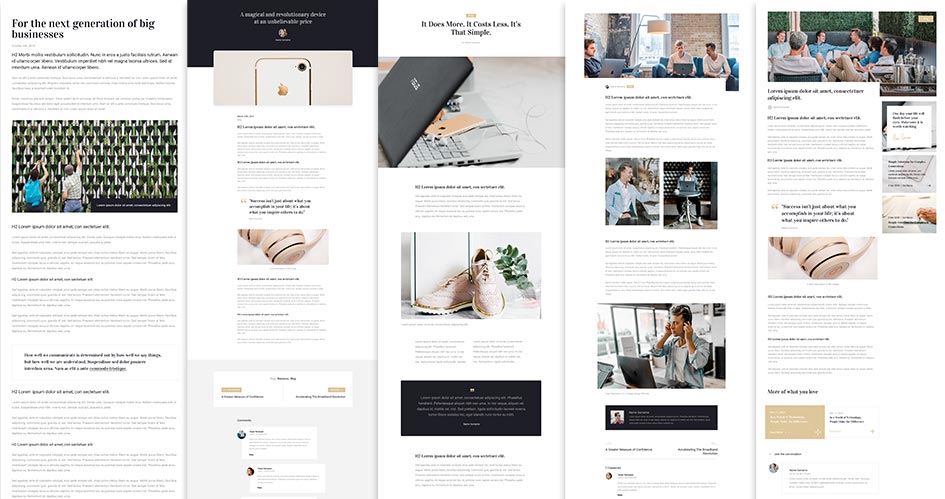 What are post templates in WordPress?
WordPress post templates are a great way to quickly and easily create new posts with a specific look and feel. They allow you to specify a template for your post content, including the title, author information, featured image, and more. This way, you only have to write one post and format it in several different ways.
Post templates are a great addition to any WordPress website, so knowing how to use them is essential. This is a huge time saver for bloggers and website owners, especially those that work on multiple blogs. Using post templates will also help you organize your content more easily. This article will review creating new post templates and some of the best post templates for WordPress.
Why create a single post template in WordPress?
If you're a WordPress user, you may wonder why you should create a single post template. There are a few reasons why this can be a good idea. First, it can help you create a more consistent look and feel for your posts. You can choose different templates for each post type when creating a single post template. So, if you're blogging about your favorite tech gadgets, you can select a template that features various devices and accessories.
As we discussed in the first section of this article, designing your website in WordPress can be difficult. If you have a single template for all of your posts, you can make it easier for yourself to create your site, and it will look consistent. Additionally, if you have specific formatting or content you want to include in your posts, a template can make this easy to do. This can make your blog look more professional and polished.
How to modify a post template in WordPress
In WordPress, you can modify a post template to change your post look. To do this, go to the post editor and click the "Template" tab. From here, you can choose different templates for different categories and posts. Navigate to your home page and click on Posts in the drop-down menu.
Things you should keep in your Mind
What is a post template in WordPress?
How do I change the way my posts look using a post template?
What are the different templates available for posts in WordPress?
How do I choose a template for my posts in WordPress?
Can I use a post template for all of my posts in WordPress?
How do I navigate to the post editor in WordPress?
Then you can choose from a variety of predefined templates. You can also create custom templates for your posts that aren't on the list. In addition, you can also make any necessary changes to the post's layout and design. If you want to take this further, you can create a child theme and modify the template files. This way, the changes you make will automatically update all of your posts. These steps can seem daunting if you aren't familiar with them.
How to use post templates in WordPress
Post templates allow you to create a custom post format with predefined content and settings. This can help make standardized posts like blog articles, product pages, or event announcements. To create a post template, create a new post and choose "Template" from the "Format" drop-down menu. Here's a screenshot of how the Template page appears: You can choose from a list of predefined post types from the Template Manager section on the right-hand side.
This will display the post template editor, which you can use to create your custom post format. This process is essentially the same as creating a custom post type. If you need help with that, I've created a guide. Once you have your post type defined, you'll need to enter the fields that will appear in the post. For example, you can use a loop field to display a list of related posts. Post templates are primarily helpful for positions in your main site menu or archive.
The benefits of using post templates in WordPress
The examples below demonstrate how a blog post template and a new product page template can be quickly customized to fit your needs. They help you create a consistent look and feel for all of your posts, they make it easy to add common elements to your posts, and they can help you speed up the process of creating new posts. Click the Create new product button when you're ready to move forward.
This will launch a form to name your product and assign an SKU (stock-keeping unit). If you want to change the template, you can edit both by clicking the respective edit button. This will open the template editor in a new tab where you can make any changes that need to be made.
Conclusion
There are many great reasons to use post templates in WordPress. You can create custom templates for different posts or even for specific positions. This can help you create a more cohesive and professional look for your blog. Additionally, using a featured image can help your posts to stand out and get noticed.